In the 'General' tab you will find the following parameters: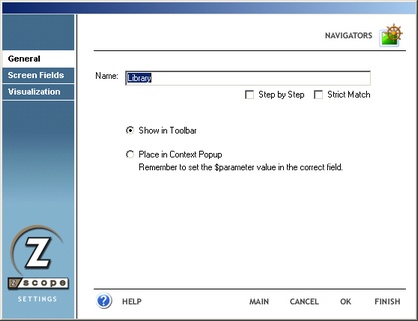 Name
In this field you must enter a name for the Navigator.
Step By Step
When this option is checked, you will have to click on the Navigator button after each screen in the navigation sequence is shown.
Strict Match Only
If this option is checked, the internal recognition method employed to detect the screens that the Navigator is intended to work with will require a whole-page exact match. Otherwise,the match will be made only by the input field's caption, independently of the rest of the screen content.
Context Selection
Select the 'Show in Toolbar' option if you want the Navigator to be visible inside a dynamic toolbar at the top of the Emulation Display.
Select the 'Place in Context Popup' option if you want the Navigator to be accessible from a context pop-up menu instead of from a button in a dynamic toolbar. See Running a Navigator (method #3).
| | |
| --- | --- |
| | For this option to work, you must apply the 'Switch To Parameter' button to the desired fields in the 'Screen Fields' tab. |