The Start Page provides a convenient and quick access to the Connections and its settings.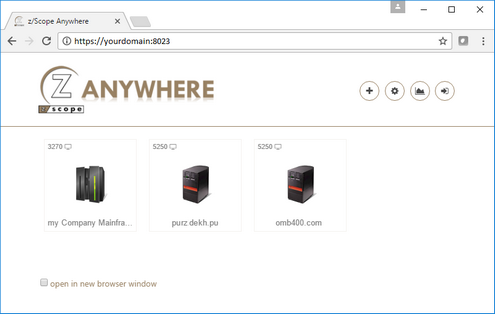 The start page shows the anonymous and authenticated connections available for the anonymous or authenticated user. It also provides access to creating new connections, modify available connections, analytics data and logging in:
New

The 'New' button allows you to create private connections with personal preferences and communication parameters. Read the topic Creating a Connection from the Web for further information.
Analytics

The 'Analytics' button gives you access to the Admin Control Panel. Once you click on this button, the Control Panel will be open on a new browser tab/window. This feature will be only enabled to assigned users.
Log Out/Log in

This button allows you to log out of your current session or to log in to start a session. When you are not logged in, you will only view anonymous connections.
The start page enables you to:
a) Visualize the configured connections
b) Open new sessions from the existing connections
c) Add new private connections through the "New" button
d) Customize the existing connections preferences through the "Settings" button
e) Visualize the logged user in the upper right corner.
Read about the connection buttons you will find in the start page.