In the 'General' tab you will find the following parameters: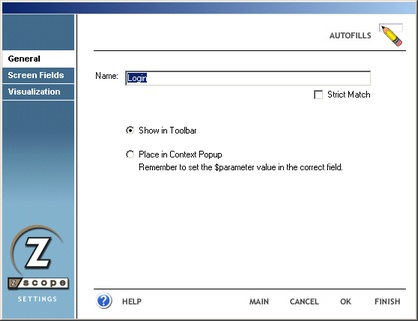 Name
In this field you must enter a name for the Auto-Fill.
Strict Match Only
If this option is checked, the internal recognition method employed to detect the screen that the Auto-Fill is intended to work with will require a whole-page exact match. Otherwise, the match will be made only by the input field's caption, independently of the rest of the screen content.
Toolbar/Context Selection
Select the 'Show in Toolbar' option if you want the Auto-Fill to be visible inside a dynamic toolbar at the top of the Emulation Display.
Select the 'Place in Context Popup' option if you want the Auto-Fill to be accessible from a context pop-up menu instead of from a button in a dynamic toolbar. See Using an Auto-Fill (method #3).
| | |
| --- | --- |
| | For this option to work, you must apply the 'Switch To Parameter' button to the desired fields in the 'Screen Fields' tab. |